Healthy Holiday Eating Tips from Your Kansas City Personal Trainer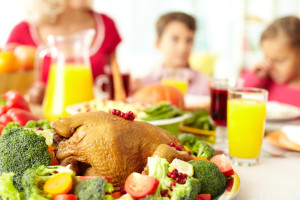 Thanksgiving is a time for enjoying the company of loved ones and expressing gratitude for the good things in your life. This celebration of family and good fortune is traditionally accompanied by a large meal – and this can make it easy to overeat. If you're looking for ways to remain healthy during the holidays, here are a few tips you can follow from a local Kansas City personal trainer.
Take heart, even the most dedicated and disciplined health enthusiast may struggle to maintain their healthy eating during certain times of the year – namely Thanksgiving. You are not alone!
Be Mindful of Portion Sizes
Just because the table is set doesn't mean that the fundamentals of good eating habits aren't effective. While it may be tempting to dig in, being mindful of portion sizes can help you enjoy the feast without packing on the pounds. This also allows you to enjoy the types of foods you like without having to limit yourself.
Thanksgiving often consists of multiple guests contributing their own dish. You'll be able to try out as much as you like as long as you remember how smart sizing strategies can benefit your overall health. A simple guide would be to serve yourself a palm-sized portion of meat, a palm-sized portion of stuffing or sweet potatoes or yams, then fill the rest of your plate with vegetables. You can still partake in the good food, and minding your portions will help you feel like you are staying on track while enjoying your Thanksgiving meal.
Schedule a Little More Exercise
Thanksgiving can be an extremely busy time. Family and culinary activities can leave your schedule packed, but making time to exercise will pay off. In fact, if you're looking to splurge a bit during mealtime but want to avoid gaining weight, exercising a bit more could prove to be a smart choice. Plus it can relieve some of the stress that holidays tend to cause us to feel – particularly if you are hosting and cooking the meals for several guests.
Don't Skip Breakfast
You may think that planning ahead is a great strategy for letting you enjoying a bit more Thanksgiving dinner. However, some people attempt to balance things out by eating less beforehand rather than exercising more. However, this isn't advised as eating a healthy breakfast is always a good idea – even during Thanksgiving. Not only will this help your metabolism remain steady, but it will ensure that you don't overindulge during dinner.
Make Your Meal a Bit Healthier
Whether it's something as simple as swapping out an alcoholic drink for water or a large change like cutting back on the amount of butter or salt used when preparing the meal, there are many things you can do to make your Thanksgiving dinner a little healthier. If you have a say in the menu choices, you can help make the meal healthier. Whether you're making suggestions or preparing a dish yourself, remember that it is possible to stay healthy and have a delicious dinner.
You'll Do Great
Just being aware of the need to approach you holiday eating with care will go a long way to keeping you on the right track. If you feel you'd like something more structured for your eating, consider a consultation with a professional nutritionist who can adapt an eating plan to your lifestyle and goals. Happy Thanksgiving!
AYC Health & Fitness has plenty of experience crafting personalized workout plans designed to help individuals achieve fitness goals. Whether you need a little help during the holidays or want to start a long-term plan, we can create something that fits your needs and schedule. Call AYC Health & Fitness today at 913-642-4437 or click to book a consultation.