Should You Choose Small Group Training Classes or Personal Trainers?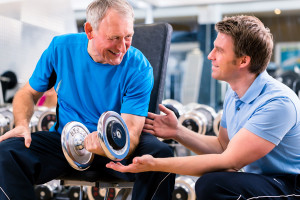 Are your morning runs or hour-long treadmill sessions no longer generating the fitness results you want? Have you thought about trying a new workout approach which motivates you to remain fit while giving you an opportunity to interact with other like-minded people but aren't sure if this is right for you? If you are confused about whether or not you should reach out and start working with personal trainers in Kansas City or join small group fitness classes to help you reach your goals, the following should help you decide which is the right choice for you.

Small Group Training in Kansas City
According to Peter McCall, a fitness expert and author at ACE, small group training refers to a fitness program in which one trainer instructs a group of between four and 10 people. While this number can go up, professional trainers prefer to keep it small to ensure every member receives personalized attention. Small group training is becoming popular for several reasons.
1. Variety of Workouts
By being part of a small group that works under a professional and knowledgeable instructor, your workouts may evolve from common to varied and advanced. The result? You won't hit a plateau or get bored with the same old routine.
2. Support
When things get tough or you feel you're lagging, both the trainer and other group members are always handy to encourage you to overcome any obstacles.
3. Greater Focus
With the trainer watching every move and guiding you on what to do, there's no time to lose concentration. In the end, you'll achieve your fitness goals from maintaining focus throughout the entire workout.
4. Camaraderie
Let's face it, working out is more exciting when in the company of other like-minded people. You'll most likely make friends which will encourage you to participate regularly.
5. Affordable
While having a customized training session with a professional trainer provides you with personal attention, other people find that small group training suits their budget better, while also giving them the attention they need.
6. Fun
When you exercise with other participants, the energy of the entire group will make the workout session fun-filled until the end.
Personal Trainers in Kansas City
Working locally with personal trainers in Kansas City will help you reach your fitness goals. You can choose one or more sessions a week and your personal trainer will be there to motivate and keep you accountable as you work towards becoming your best self. Whether you're interested in strength building, yoga, flexibility or Pilates, a personal trainer will guide you through safe training regimens. This program comes loaded with benefits too.
1. Accountability and Motivation
Personal trainers know how to hold you accountable. Once you set up your schedule, your trainer will be committed to helping you create an achievable and realistic plan. They have the ability to keep you going with the training even when you feel at your lowest.
2. Consistent, Non-Judgmental Support
We all have visited a gym and compared ourselves to others or worried about the way we appear when working out. Kansas City personal trainers don't criticize or judge. They are there to help you envision your success, small or big, even when you can't. Trainers will continue to believe in and motivate you until you reach your goal.
3. Reduced Chance of Injury
If you've only exercised for a month or are just starting up, a trainer won't instruct you to start a rigorous workout regimen of one-hour sessions, 5 days a week, as this would lead to injury. Instead, your personal trainer will figure out where you should start and help you proceed comfortably until you attain your personal goal.
4. A Lifetime Exercise Habit
When you go through personal training, you'll learn how to prioritize exercise and healthy living. Personal trainers in Kansas City can help you overcome obstacles that may hinder you from exercising while helping you set several small, attainable goals. If you hit a plateau, a professional trainer will help you work through it to get better results.
Should You Choose Personal Training or Small Group Training?
Still not sure where to start? If you have a specific fitness goal like muscle gain or fat loss and you need customized, personal attention to meet this goal as an individual, with a partner, friend or spouse, personal training is a clear choice. A trainer will help you create a workout schedule tailored towards your abilities, body type, and preferences.
If you have more questions on what to choose or need advice to help you start training, call AYC Health & Fitness today at 913-642-4437 or click to book a consultation.